Meetup Togetherfest was a two-day summit where Meetup organizers were invited to New York City to hear about new, exciting changes coming as well as to be a part of imagining the future of the platform. I worked on creating the visual identity and producing a wide array of assets to bring the event to life.
We commissioned calligraphic artist, Emma Hands, to help with the logo. The goal of the logo was to create something that was hand drawn to conjure a more personable feeling.
The colour palette was designed to elevate the existing Meetup one of red and white. By adding in a gold and some supporting neutrals, we ensured that the red still felt powerful, while giving us some extra tools to work with. Additionally, we introduced a green colour that only existed in the physical space through plants which you'll notice in the event photography.
I created three different patterns, all based on the concept of connectedness. The theme of the event was about the strength that comes from when we are all connected, therefore it felt like a no-brainer to create patterns that embodied this idea through connected dots that together, create beautiful patterns.
One of the most important assets that was created for this event was the information booklet. It was gifted to every attendee and served as a guide for the event. It included maps, an agenda, and background on the guest speakers. This was a fantastic opportunity to bring many of the graphic elements we developed into practice.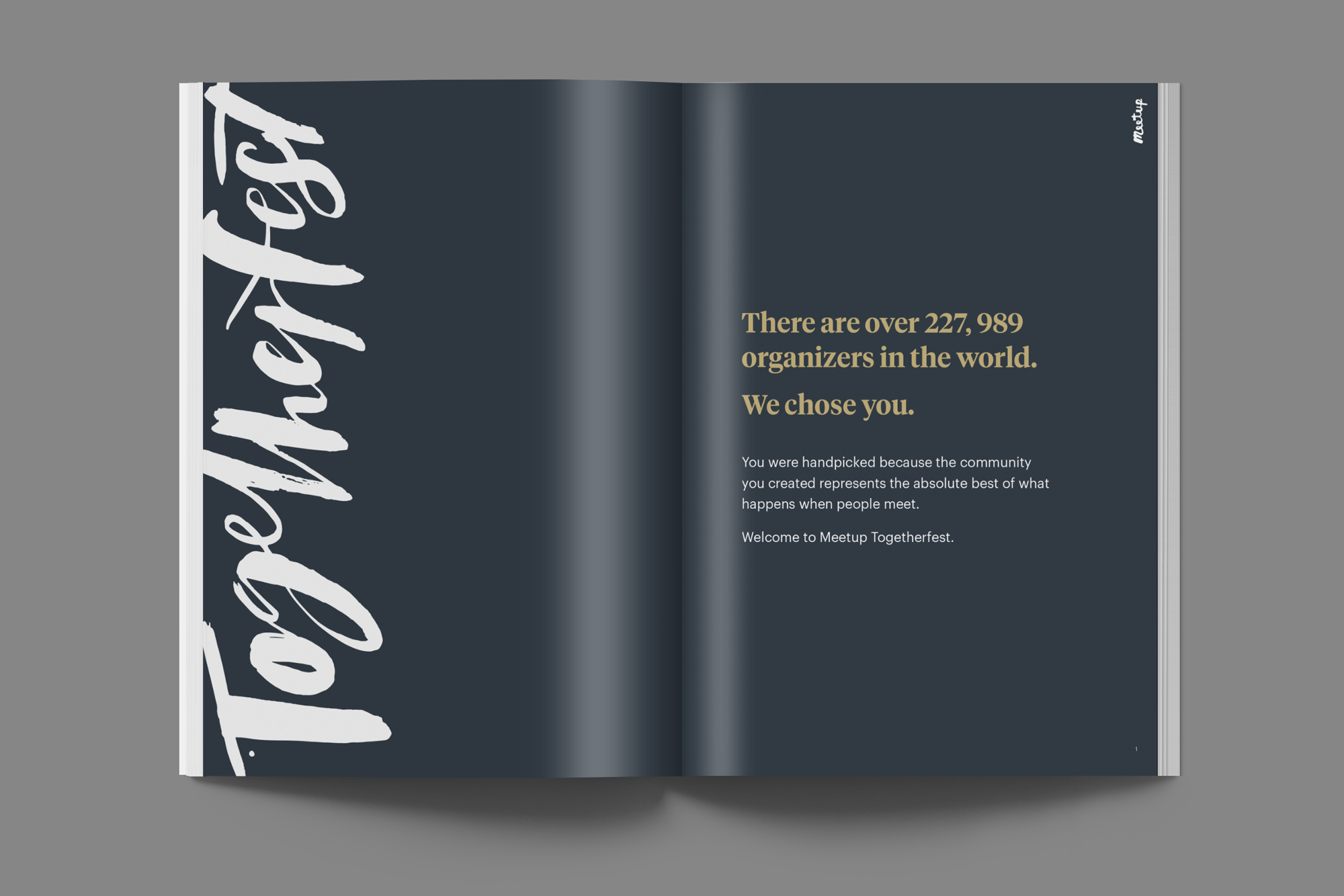 With the completion of the booklet, it was time to turn our attention to creating a number of other collateral items. We made notebooks for people to record what they learned, tote bags for people to carrying their belongings, t-shirts, signage, and many other assets.
I created a series of one-inch buttons that were to be used as conversation starters amongst the attendees. Each button designated a unique trait of the wearer so as to signal to others what the wearer is about, and hopefully make social interaction a bit easier.
We developed a website that would act as an invitation and hub for all information relating to Togetherfest. Here, our guests would be given an outline of the locations, accommodations, and programming for the entire two-day experience.
A number of assets were designed to be used to promote the event through social media. These stylized assets allowed us to create content that felt tied to a specific moment on our global feed. In addition, we thought carefully about creating shareable moments that people would be excited to post on their own, with one of the highlights being a large 3D printed Meetup logo.
Overall, the event was a huge success. We saw an uptick in positivity surrounding the brand and a renewed sense of connection amongst the company and users. The success of this event eventually led to the spawning of other Meetup Togetherfests with one in London and the other in Berlin.